Visitor Management Security Standards
At Veristream, we are committed to safeguarding your data by providing the highest quality data security found in the visitor management industry. The confidentiality, integrity, and availability of your data is our highest priority, and we won't nickel and dime you along the way to offer this security benefit. We believe the highest level of security should come standard, and not be something you pay more for.
We take pride in our security culture which starts with our hiring process and continues as ongoing security training for our current employees. Our customers benefit from a datacenter and network architecture built to meet the requirements of the world's most secure organizations. Veristream utilizes Microsoft Azure for hosting all of our application servers and is used for our secure data storage. The Azure datacenters are physically protected at all times including electronic key cards, guards, alarm systems, video surveillance, and perimeter cards.
Secure Data Encryption
All customer data is secured at all phases of its lifecycle, allowing companies to feel secure and protected at every stage. BreezN is our latest visitor management software that leverages state-of-the-art resources from Microsoft to ensure all customer data and services are secure end-to-end. All data in transit from the iPad and BreezN dashboard is encrypted using TLS 1.2 security, and data at rest is 256-bit AES encrypted. Data is also securely destroyed at the end of its retention period helping companies meet GDPR and CCPA compliance regulations.
Veristream designed a robust architecture that puts security first. There is a secure data flow that provides encryption at all points in the system. It is important to remember all visitor management systems are not built alike. While many companies offer some of the same features, what goes on behind the scenes can be quite different. In 2019, IBM found major security flaws with numerous visitor management system companies that could render facilities insecure. Working with Microsoft allows us to protect our system from malware, Distributed Denial of Service attacks, and other threats with the latest Microsoft technologies available.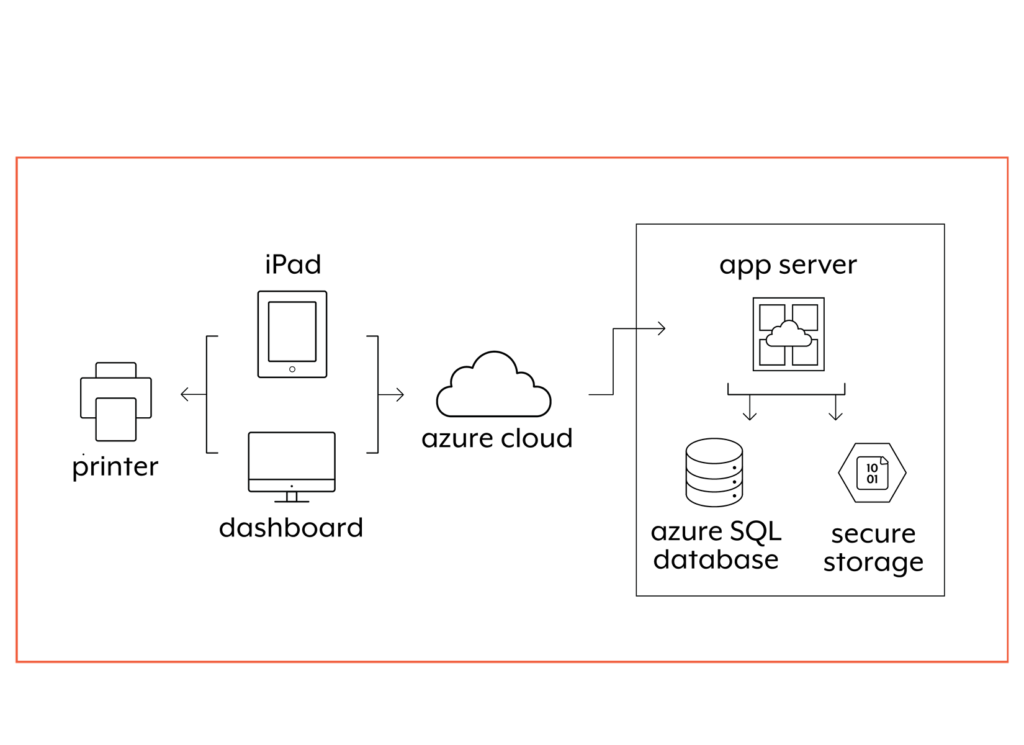 Dedicated Private Environment
Each of our customers has a dedicated private BreezN environment that does not share services or databases with other clients. Typically seen in the visitor management industry, most visitor management companies will group their clients in the same database. Unless you want to pay more to have your company separated from the rest, you'll be grouped in with the rest of their clients. Unfortunately, that puts your company at a higher risk for a data hack. Think about it from the standpoint of a hacker, if you could hack a database that has one company or twenty companies hosted there, which would you go after? I would safely assume most hackers would break into the database that stores the most companies. More companies, more information, more problems.
Demand More
At Veristream, we believe in providing the most for our customers as a standard, not an option. We have the honor of working with all types of industries across the world and we are committed to the highest level of security. All of our datacenters undergo third-party audits to review the security, availability, integrity, and confidentiality. Microsoft Azure datacenters are SOC 1 (SSAE 16), Type II, SOC Type II, and SOC 3 certified. Our security operations center is staffed 24 hours a day and 365 days a year, and our personnel proactively monitors our security systems and responds to alerts in real-time.
Our customers range from Fortune 100 global leaders, government agencies, aerospace, manufacturing, hospitals, NFL teams, universities, biotech, and more. From one single location in the US to 85+ located all around the world, our customers trust us to keep their facilities safe and data secured along the way. Contact Veristream security professionals at 1-888-718-0807 today or schedule a demo online to learn more.